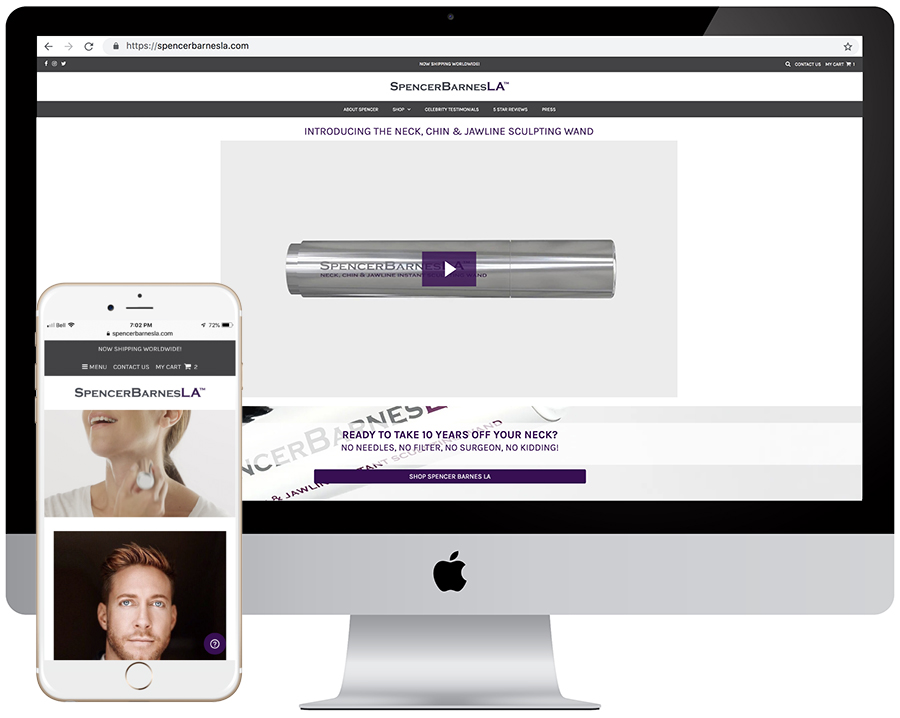 SpencerBarnesLA.com
Spencer Barnes is a celebrity makeup artist. Along with the company co-founder, Spencer identified a whitespace in the market. A device that could smooth out wrinkles on the neck. The product was created, it was time to go online and start selling. The company needed a slick and extremely friendly online presence with online shopping capabilities built in. The product skewing to an older demographic made website ease of use that much more imperative.
Blend360 created a completely customized, mobile-responsive theme for the Shopify Plus platform. High end video production and photography was provided to really sell the product to a visual-first audience. The marketing communications strategy was put in place on the website to showcase Spencer Barnes as the celebrity makeup artist to establish credibility and then lead the customer on a journey to purchase the Neck Wand product.
The company launched with the website as its only sales channel, and the site performed better than the top 1% of e-commerce sites on the Shopify e-commerce platform! The design lent itself to a super-easy user experience and the site still enjoys conversion rates in double digit percentage figures today.
---
Client: Spencer Barnes LA
Skills: HTML, CSS, Liquid Code, Shopify Plus
Services: Creative Design, Web Design and Development, eCommerce.