The Instagram Explore page is a super-powerful feature for brands — it's designed to help profiles and businesses gain more engagement and exposure on Instagram with very little effort.
9 Quick Tips to Get on The Instagram Explore Page
The Instagram Explore page is a super-powerful feature for brands — it's designed to help profiles and businesses gain more engagement and exposure on Instagram with very little effort.
Instagram's Explorer page is a great feature for brands because it's purposely designed for businesses to get more exposure and engagement with very little heavy lifting. Recently, Instagram released a brand spanking new Explore page which now includes new top channels, Instagram Stories, IGTV and a shopping feed.
Those who are familiar with the Instagram algorithm know that one of the main factors that governs post visibility is Instagram's desire to make the platform more personalized for their users. The more any one user interacts with your content, the more prominent your posts will be in that individual feed. Instagram takes this approach a step further with the Explore page. Essentially, Instagram takes what it has learned about what you like and engage with and curates a personalized grid of similar content from accounts that you don't follow yet. If you have a brand page on Instagram, the Explore page unleashes the potential to show your  posts, stories, videos and shoppable content to a completely new, like-minded audience!
Getting your content on the Explore page does not cost any money (yet). But you do need to get strategic. Here are 9 tips to getting your content on Explore pages:
1. Figure out what content resonates best on the Explore page.
It is quite likely that your content has already appeared on the Explore page but you just do not know it. You can figure this out by using Instagram Insights. Under the Discovery section you will be able to view a breakdown of your post's impressions. You can see from the below image that this Blend360 post made it to the Explore page – over 600 impressions came Explore. It is also interesting to note that more than 35% of the users reached with this post were not following @Blend360Agency.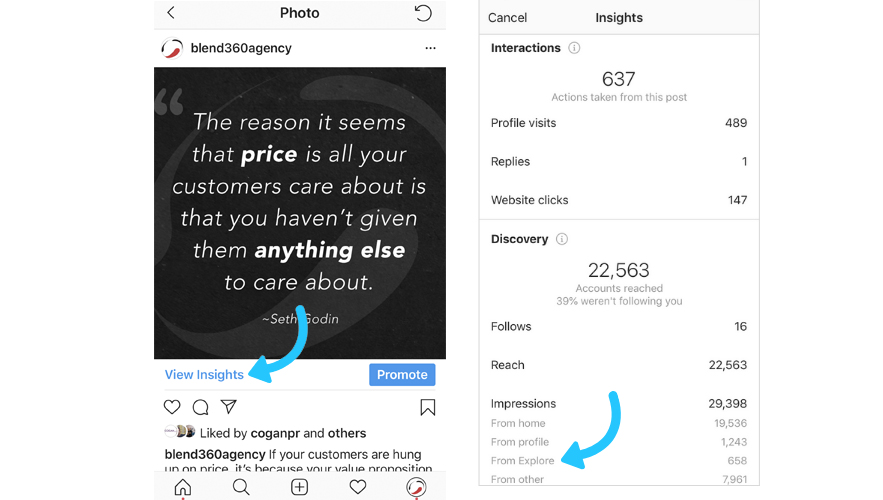 If you pay attention to these analytics, you will be able to ascertain what content performs best on the Explore page. Then you know to post more of the same!
2. Post when your audience is most active on Instagram
Posting when your followers are most active on Instagram significantly increases the chances of the post getting strong engagement. The higher the engagement on the post, the stronger the signal to the Instagram algorithm that your content is valuable, and therefore, more worthy of appearing on the Explore page. In addition, it's highly likely that the 'look-a-like' audience that is so much like your own audience is most active on Instagram at that time as well, so they will be online to see your content in the Explore page and interact with it, exponentially increasing the post's exposure.
You can determine when your audience is most active on Instagram by going to your profile insights (not to be confused with the post insights shown in the image above). You get this by tapping the menu in the top right corner on your profile page, tapping Insights" and then selecting the audience tab. You will be able to see valuable demographic information as well.
3. Carry forward a consistent, on-brand look and feel through all your stories.
TechCrunch recently reported:
"Stories with content more similar to and representative of a creator's typical feed posts are more likely to show up on Explore."
This means it is more important than ever to carry a consistent aesthetic into every Instagram story you post. Check out the stories on @GoToSkinCare as an example.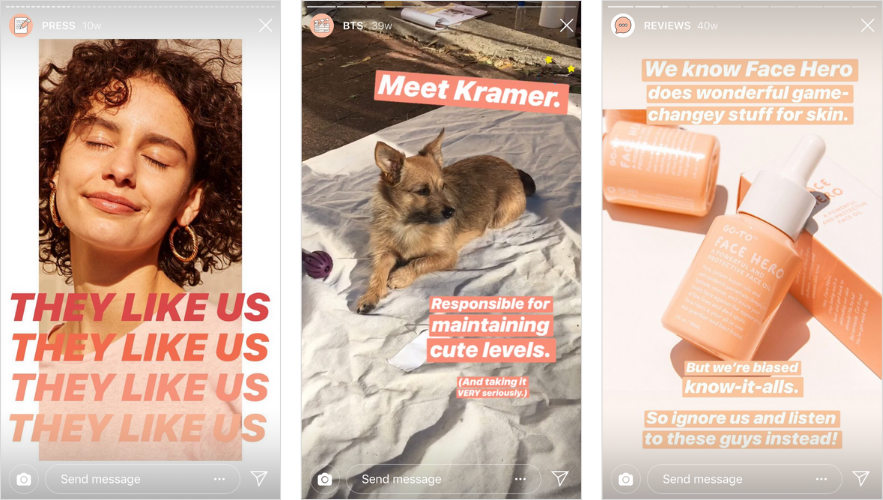 Notice how no matter what kind of content is being posted, they are carrying forward the same color scheme and typeface, whether it's a 'behind-the-scenes' post or a crafted post.
4. Turn static posts into 'video.'
More from TechCrunch:
"Videos have the potential to be ranked higher than photos since videos auto-play in Explore and tend to get more attention,"
The prominence of IGTV and stories have made video posts the content of choice on the Instagram platform. But a content calendar filled with video posts is a daunting task to execute. Video is time consuming and often expensive to produce (well). A simple hack around this is to turn your static photographs into what Instagram will interpret as video. You can do this by creating animated gifs to act like 'stop-motion' photography, add a motion aspect to the image using a tool like @enlightpixaloop app, or creating Boomerangs are just a few ways to accomplish this.
Here is a great example from @LuluLemon:
5. Create short videos
Posting photos of your product is not going to cut it if you want to show up on the video-dominated Explorer page. If you have a product to showcase, put it in a tutorial or have a brand ambassador or even a staff member show it off, review it or demonstrate how to use it.
If you have a content site, put together quick, snackable video pieces that will entertain and inform your audience.
A perfect example is the overhead recipes you see all over the internet:
6. Product Tagging for the Shopping Channel
Adding shoppable product tags on your posts and in your stories will help get your products to appear on the new Instagram shopping channel. This is a smart thing to do regardless of the Explore page because this allows Instagram to provide users with a seamless shopping experience – your products can be shopped without the user having to ever leave the Instagram app. In terms of the Explore page, because this is a relatively new part of the page, Instagram is naturally looking for more shoppable posts and stories to include.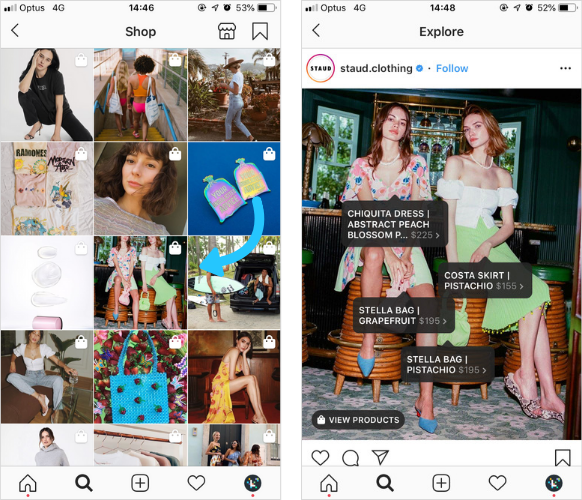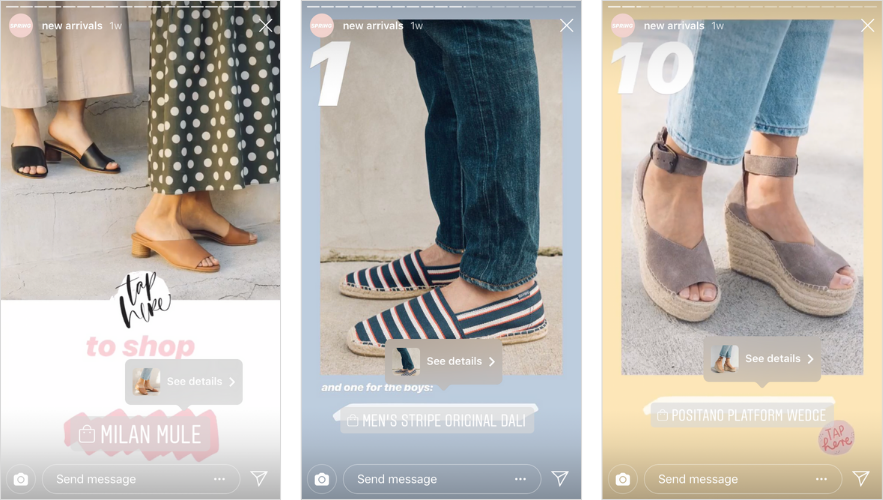 7. Collaborate with Other Brands
When you work with other brands to share posts and stories, make sure to tag and mention the other brand and ensure they do the same for you. It signals to the Instagram algorithm that there is a relationship between the two of you, and increases your chances of showing up in the Explore page of the account you have partnered with. This has the potential to expose your brand to an audience that is not yet following you. Obviously, you would be partnering with a brand that has an audience that compliments yours, so the additional reach you can gain is valuable.
8. Make Video for IGTV
The Instagram Explore page has an entire channel devoted to IGTV. Creating video for your own IGTV channel will increase your chances of getting on Explore feeds with content containing massive brand value. Unlike Instagram posts that have to be under 60 seconds, IGTV videos need to be longer than one minute. This longer form video appearing on Explore page offers a great opportunity to tell a better, more complete brand story to a new audience.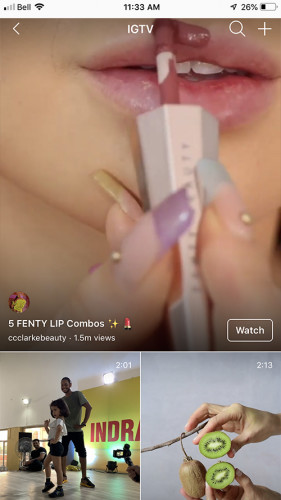 9. Choose Hashtags that Will Improve Engagement
You've probably come across this one on just about every blog post offering Instagram tips! It holds true for getting on Explore feeds too. Remember that Instagram is going to showcase the posts and stories that get the best engagement around topic of interest to the user. Improving the engagement on your posts and stories is therefore a sure-fire way to improve your chances of appearing on Explore feeds. Being strategic is key. Do not just use the most popular hashtags, but really try to use as the best performing hashtags in your niche. That way you can better ensure that the right audience is seeing the post or story, making it more likely the audience will engage with it too.
Getting on Explore feeds is super important if you want to extend your brand reach on Instagram. Remember to build your content strategy around offering content for the various Explore channels such as IGTV and Shopping. Be strategic about how and when you post, remember to offer video as much as possible, even if that means making a photo 'move.' And always remember to check your insights to see what content is making it to Explore feeds and which are performing the best. Find some correlations and then augment your strategy to ensure you do more of whatever is getting you seen on Explore pages.
Need help managing your social media channels? Want to develop more engaging content? Want to grow your audience? Contact us today and let's chat.